Hyundai HT Original Dry Van Semi-Trailer
53′ x 102″ x 13'6″
High-density Plastic Lined with Logistic Posts on 24" Centers
Air Ride
Available with Galvanized Cross Members, Couplers, Hangers, Rear Door Frame and ICC Bumper
Aluminum Roofs
Other Features Available, built to your specifications
FOB Factory or Your Location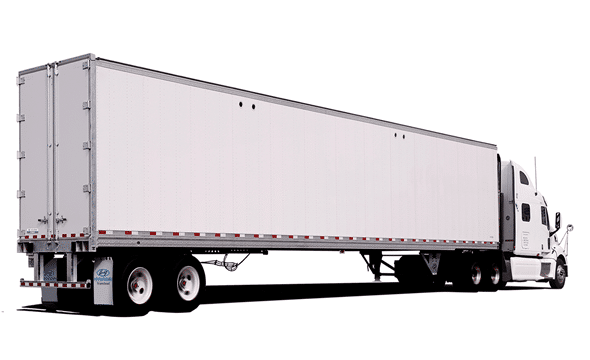 Overview
Driven by the desire to create a trailer to fit many operations, the Hyundai Original® can be custom built to meet the specific needs of your operation.
Corrosion Resistance Package includes HOT-DIP GALVANIZED steel rear frame, rear impact guard, inner and outer landing gear legs, landing gear mounting brackets and bracing, license mounting plate and mid turn signal bracket. All standard equipment for extended service life and superior appearance.
Six(6) pick-up plate longitudinal channel sections for maximum strength for fifth wheel to prevent "dishing". Extra deep base rail with rivet guards.
Logistics slotted side posts standard on 12, 16 and 24 centers as well as a logistic slotted rear frame.
LENGTH
WIDTH
CAPACITY
WEIGHT
DOOR OPENING

Exterior: 53' 0"
Interior: 52' 6"

Exterior: 102.36"
Interior: 101.50" at floor

68,000 GVWR 4,095 cu. ft. of interior volume

Tare Weight 13,980 lbs.
AIAG Floor Rating 20,000 lbs

111.50" Height
99" Width